Sensory Room Reveals New World for Students at Mobile School for the Deaf and Blind
August 22, 2012 | Posted by LP Brooke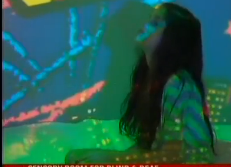 WPMI-TV  http://www.local15tv.com
(MOBILE, Ala.) – Pulsating music and bubbling lights!
At first glance, the darkened room with thumping bass and bubble light looks like some high tech dance club.
But it's much more important than that. It is a sensory room.
And it's the newest classroom at Mobile School for the Deaf and Blind.
"I've seen expressions and movements I have never seen from the students as long as I have worked with them!," said Amy Hess, orientation and mobility specialist at the school. "So that is exciting! And school hasn't even started yet!"
When school opens this fall, those youngsters with diminished sight and hearing abilities will suddenly be faced with a new world especially designed for them.
The room is meant to stimulate children who have trouble experiencing their surroundings, or to calm those who need to focus on the school day ahead.
"Or they can just come in here and play and have a good time!" said Hess.
The room was designed by Sandra Fornes, who began designing these rooms after seeing what they could do for her own son.
"We had a son with severe and profound disabilities," she said, "and we found that when his senses were stimulated he was much more alert, happier, and we believe even healthier."
It already seems to be working, says Emily Gray, as she watches her daughter recline in a huge box of plastic bubbles.
"Actually at home she loves the cd player and just touches it. She loves music and wants me to turn it on. She puts her head down to it. She loves the vibrations."
Many words could be used to describe this room.
But one youngster, Nathan summed it up best. as he marveled at the tubes filled with bubbling colored water.
"Makes me feel like I'm in heaven!"
Blog, Featured, Spotlight