October 29, 2012 | Posted by admin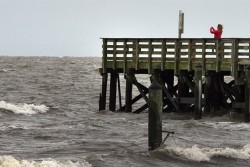 By CHRISTINA NG (@ChristinaNg27)
Oct. 29, 2012
Hurricane Sandy picked up speed this morning and began its menacing turn towards the U.S. coast as cities all along the shore scrambled to batten down before the super storm hits.
President Obama abandoned the campaign trail with only days left before the election, canceling events in the key battleground of Florida to return to Washington.
He told governors and mayors affected by Sandy, "Anything they need, we will be there. And we are going to cut through red tape. We are not going to get bogged down with a lot of rules. We want to make sure that we are anticipating and leaning forward.
The storm is estimated to be putting 50 million people at risk.
It may have already claimed some victims. The tall ship HMS Bounty, a replica of the three masted ship, went down off the coast of Cape Hatteras, S.C., this morning. Fourteen crew members were rescued and a Coast Guard helicopter is scouring the rough seas for two more crew members.
Sandy Sinks Tall Ship, Two Missing
Sandy began its left turn towards the East coast of the U.S. this morning with the top winds currently at 85 mph. Waves are approaching 20 feet off the coast of Long Island and have exceeded 30 feet off the coast of the Carolinas, according to the National Hurricane Center.
The eye of the storm is forecast to make landfall at around midnight in Atlantic City, N.J., bringing with it life-threatening storm surges, gale force winds and rainfall that could cripple transportation and leave millions without power. But the force of the storm was already evident as powerful winds and high seas began lashing the coast this morning.
The force of Sandy, already a powerful storm system, will be multiplied as it combines with several systems to potentially wreak havoc from North Carolina to New England as far west as the Great Lakes.
The Northeast has been paralyzed by the impending storm. The stock market is closed today, the first unscheduled, market-wide close since September 2001, according to the NASDAQ website. Also in New York, the city's public transportation has been completely shutdown for the second time in history. The first time was for last year's Hurricane Irene.
By morning, waves were already washing over the seawall and into Battery Park at the southern tip of Manhattan, the country's financial center.
"It's already at Irene levels and the question is going to be what level the surge will take us to later on this afternoon and this evening when it's actually high tide," New York Gov. Andrew Cuomo said at a news conference today.
The turbulent weather has brought much of the region's transportation to a halt. Paralyzed airports have stranded people all over the country. Nearly 9,000 flights have been cancelled so far, according to Flight Aware. It is grounding planes throughout Europe since they can't land at their U.S. destinations.
Roads are shut down. Delaware Gov. Jack Markell banned vehicles on the state's roads except for emergency and essential personnel, according to ABC News' Philadelphia affiliate WPVI.
Connecticut Governor Dannel Malloy has ordered road closures for all state highways today, according to ABC News' New York station WABC. The closures will be implemented in two phases. Trucks will be prohibited from operating on limited access highways at 11 a.m. and state highways will be closed to all non-emergency vehicles at 1 p.m.
Power companies are trimming trees and putting equipment place to hopefully minimize the number of people left without power after the storm.
Blog, Featured, Spotlight | Leave a Comment